Our Policies
---
---
Protecting Your Privacy
Brooklyn Presbyterian Church Privacy Policy
Thank you for visiting the Brooklyn Presbyterian Church website. Your privacy is important to us. Keeping your data safe and increasing transparency for use of that data are important to us. We have prepared this privacy statement to give you a better understanding of our information collection and use. This policy discloses how we use and share information gathered about you on our Web site.
While visiting our site there are opportunities for you to contact us for additional information. The information voluntarily supplied by you may include: name, address, email address, and telephone number. We use the information you give us for contact purposes only and we do not sell information to third parties.
While visiting our site there may be an opportunity to make a donation to the church requiring voluntarily supplied name, address, and financial information. This information goes directly to PayPal and is not retained or used by Brooklyn Presbyterian Church.
Brooklyn Presbyterian Church may also collect non-personally identifiable information when you visit our site such as the type of browser you are using (e.g. Edge, Chrome, Firefox), the type of operating system you are using, (e.g., Windows or Mac) and the domain name of your Internet Service Provider (ISP). Collection of this information may not be readily apparent. Brooklyn Presbyterian Church uses information collected through analytic technology to improve our site and our ministry effectiveness.
How We Use the Information
Brooklyn Presbyterian Church may use the information you provide about yourself to respond to your inquiries or to process donations. This information may be used to communicate with or respond to you as necessary, depending on the nature of your initial contact.
We may use the non-personally identifiable information we collect to improve the design and content of our site. Brooklyn Presbyterian Church may also use this information to analyze site usage so that we can continue to improve our ministry effectiveness.
We may disclose personally identifiable information in response to legal process, for example, in response to a court order or a subpoena. We also may disclose such information in response to a law enforcement agency's request. We take appropriate measures to safeguard against unauthorized disclosure of information, including use of designated church staff or reputable vendors for processing your requests.
Brooklyn Presbyterian Church will not transfer to other organizations any personally identifiable information provided to us.
Brooklyn Presbyterian Church's privacy policy is subject to change at any time and without notice. It is the user's responsibility to check here for updates.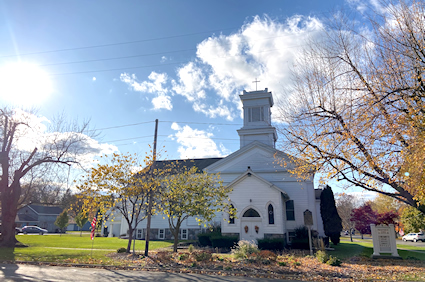 For we have regard for what is honorable, not only in the sight of the Lord, but also in the sight of men.
2 Corinthians 8:21